Veneers in Reston, VA
Dental veneers can dramatically transform your smile. Veneers help by covering up a wide range of imperfections, such as discolorations or chipped areas. Veneers can even improve the appearance of teeth that are misshapen. In Reston, VA veneers are available at Reston Family & Cosmetic Dentistry where Dr. Monica Neshat and Dr. Joy Jang can explain the process of getting dental veneers.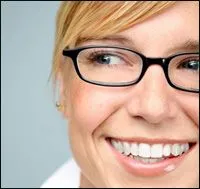 How Dental Veneers Help Your Smile
A dental veneer is a thin layer of porcelain that is bonded to the front surface of a tooth to give it a flawless appearance. Since porcelain so closely resembles tooth enamel, veneers look completely natural and blend in with the rest of your smile. Dental veneers can address many cosmetic issues, such as:
Crooked teeth
Misshapen teeth
Small gaps between teeth
Stains and discolorations
A cracked tooth
Chipped teeth
Your experienced dentist can makeover your smile with veneers in Reston, VA. They look and function just like regular teeth so no one will know you have them. You can care for your new veneers just as you do your natural teeth. Properly caring for your dental veneers will ensure they last for many years.
Getting Dental Veneers
There are a few simple steps to getting dental veneers. The first step is a consultation with the dentist to discuss your smile concerns and determine if veneers are the best option for addressing them.
Once it is decided that you will be getting them, a second appointment is scheduled to prepare the teeth for your new veneers. During this appointment, a small amount of enamel is carefully removed from the surface of each tooth that will receive a veneer. Removing a bit of enamel makes room for the veneers and allows them to sit flush with the rest of the teeth. After prepping the teeth, a physical impression is made of them that will be used by a dental lab to fabricate custom veneers.
You will return for a third and final appointment once your dental veneers have come back from the lab. Your new veneers will be permanently bonded to the teeth at this appointment. First, the teeth will be thoroughly cleaned. Then the surface of each tooth will be slightly etched to help with the bonding process. Dental cement is used to affix each veneer to its corresponding tooth. Next, a special light is used to cure the cement. Once dry, the veneers will be bonded to the teeth and will not shift or come loose, even when eating.
Dental veneers can help you achieve the flawless smile you've always wanted. For veneers in Reston, VA, schedule a consultation with Dr. Neshat or Dr. Joy by calling Reston Family & Cosmetic Dentistry.
For all other questions about Veneers, please call Reston Family & Cosmetic Dentistry at our Reston, VA office at (703) 437-5555 today!