Teeth Whitening in Reston, VA
Many home teeth whiteners may seem great and easy to use, but are they the best option? The dentists at Reston Family & Cosmetic Dentistry, located in Reston, VA, Dr. Monica Neshat, and Dr. Joy Jang, are teeth whitening experts, and having your teeth whitened professionally may be best.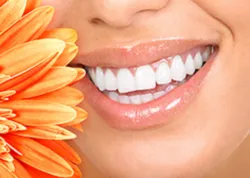 Is Professional Teeth Whitening Worth It?
If you brush your teeth twice a day, floss daily, and your smile is still not as bright as you'd like it to be, you may need a better oral hygiene regimen to prevent discoloration or learn more about other ways to brighten your smile.
Aging, medication, tea, coffee, and some foods can cause yellowing or staining of your teeth. Your dentist can offer professional whitening procedures to remove the staining, so you gain a whiter smile.
In-Office Whitening
With an in-office whitening treatment, Dr. Neshat and Dr. Jang in Reston, VA, apply a whitening gel to your teeth. The gel itself is much stronger than what you may buy in stores and requires special care.
Custom Tray for Home Use
Like in-office whitening, your dentist can provide you with a tray of milder whitening gel for you to use at home.
How is Professional Whitening Different?
Presciption whitening gels, over-the-counter products, and professional whitening treatments are better because they offer more active ingredients in their whitening agents.
Other benefits of professional teeth whitening procedures include:
Dental supervision: Before the whitening procedure, the dentist performs a thorough dental exam to ensure your gums and teeth are healthy enough to withstand the treatment.
Stronger whitening agents: Professional whitening procedures offer agents of higher concentration because the dentist can carefully monitor them. The gels can cause temporary sensitivity, requiring the dentist to protect the gum tissue around the teeth with a unique gel application.
Faster results: The whitening gel is more potent, and results are visible immediately after your visit instead of waiting several weeks with at-home treatments.

Another consideration is that some underlying diseases can cause tooth damage and discoloration. So, before you start any teeth-whitening regimen, it is crucial to have a dentist examine your teeth for any underlying conditions.
If you look to flashing your pearly whites sooner than later, it may be best to see a dentist about professional teeth whitening treatments today. Call Dr. Neshat and Dr. Jang at Reston Family & Cosmetic Dentistry at their office in Reston, VA for your teeth whitening consultation.
For more information on Teeth Whitening in the Reston, VA area, call Reston Family & Cosmetic Dentistry at (703) 437-5555 today!